1 villa for sale in San Climente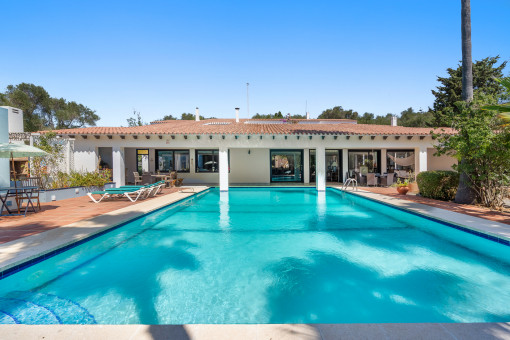 San Climente, Exceptional villa with pool and lots of privacy, 10 minutes from the beaches of Cala Canutells, Binidali and Cala en Porter
constructed:
1.105 m²
plot area:
4.269 m²
bedrooms:
8
price:
€ 1,975,000.-
Real estate agent in San Climente, Menorca
You are looking for a property for sale in San Climente, or have a question regarding our real estate offers on Menorca? You were not able to find the ideal villa in San Climente? Then please call us on +34 971 001 001, or send us an email to info@portamenorquina.com. Our Porta Menorquina real estate agents in San Climente will be pleased to asist and will help you find your dream property.
About San Climente and surrounding area:
Mahon is the capital of the Spanish Balearic island of Menorca.
The municipality of Mahon has approx. 28.500 residents and was founded by the Carthaginians, and there is a legend that the town was named by a brother of Hannibal.
Its architecture was strongly influenced by many years of English occupation, and the town gate Portal de Sant Roc, built around 1500, is the only remaining entrance in the medieval city walls.
In the narrow, winding alleys of Mahon interesting churches and museums can be found, next to all kinds of businesses.

From the main square Placa de Esplanada the pedestrian zone leads to the fish and vegetable market under the old cloisters of a former monastery. From here there are wonderful views over the harbour of Mahon.

The fjord-like bay (Ria) has a length of 5.5 kms and a width of up to 1.2 kms and is the largest natural harbour on the Mediterranean. Throughout history it has served seagoing nations as a safe base for their fleets.

The harbour of Mahon is the fourth largest natural harbour in the world, and today has become a popular destination for yachts and cruise ships from all over the world.